Source: Richmond BizSense – Published on December 16, 2021
Mike Platania December 16, 2021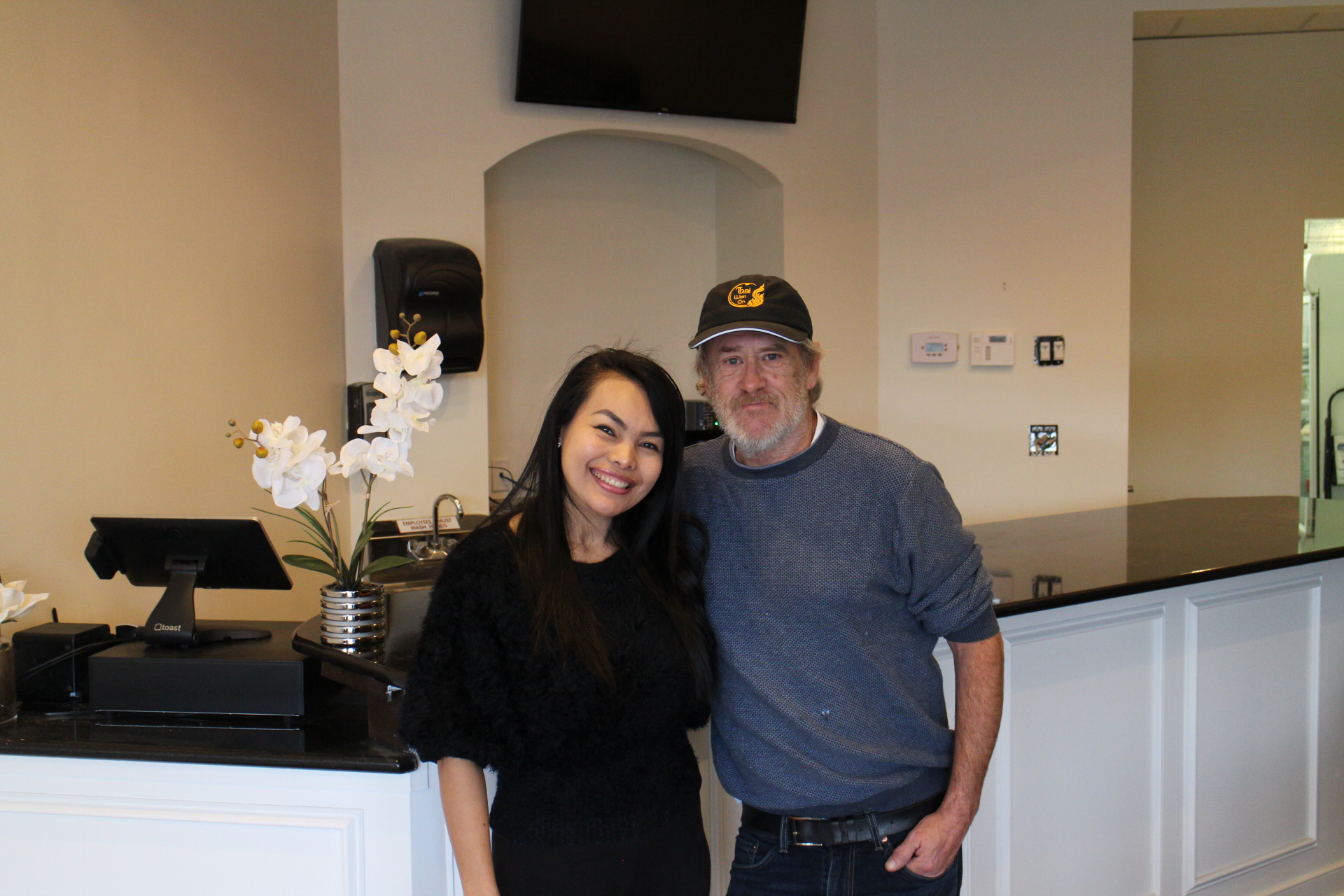 Joy Supanya and Jon Niemiec are the owners of Thai Won On. (Mike Platania photos)
Yet another local food truck operator is rolling into the Shops at Wellesley to put down roots.
Thai Won On, which launched as a mobile operation in 2019, is preparing a location in the West End shopping center just south of Short Pump. It's the second time this year the strip center has lured a food truck looking to go brick-and-mortar.
The Thai restaurant will open at 3422 Lauderdale Drive, next door to the forthcoming Redemption BBQ & Market, another food truck that recently signed on for a permanent home.
Married couple Jon Niemiec and Joy Supanya each left their respective careers in insurance and massage therapy to start the Thai Won On truck about three years ago, the same year Redemption BBQ first rolled out.
Niemiec, an English expat, said the idea was planted in their heads when Supanya went to visit a friend in Philadelphia who'd similarly started a food truck.
"(Joy) came back raving about her friend's food truck. She was looking to do something more creative with her skills with food," Niemiec said. "I said, 'Well let's get a food truck.' I was getting to the top boredom level with my job. So, we set up the company, bought the truck, left our former jobs and started the food truck."
Supanya, a Thailand native, runs the kitchen for Thai Won On.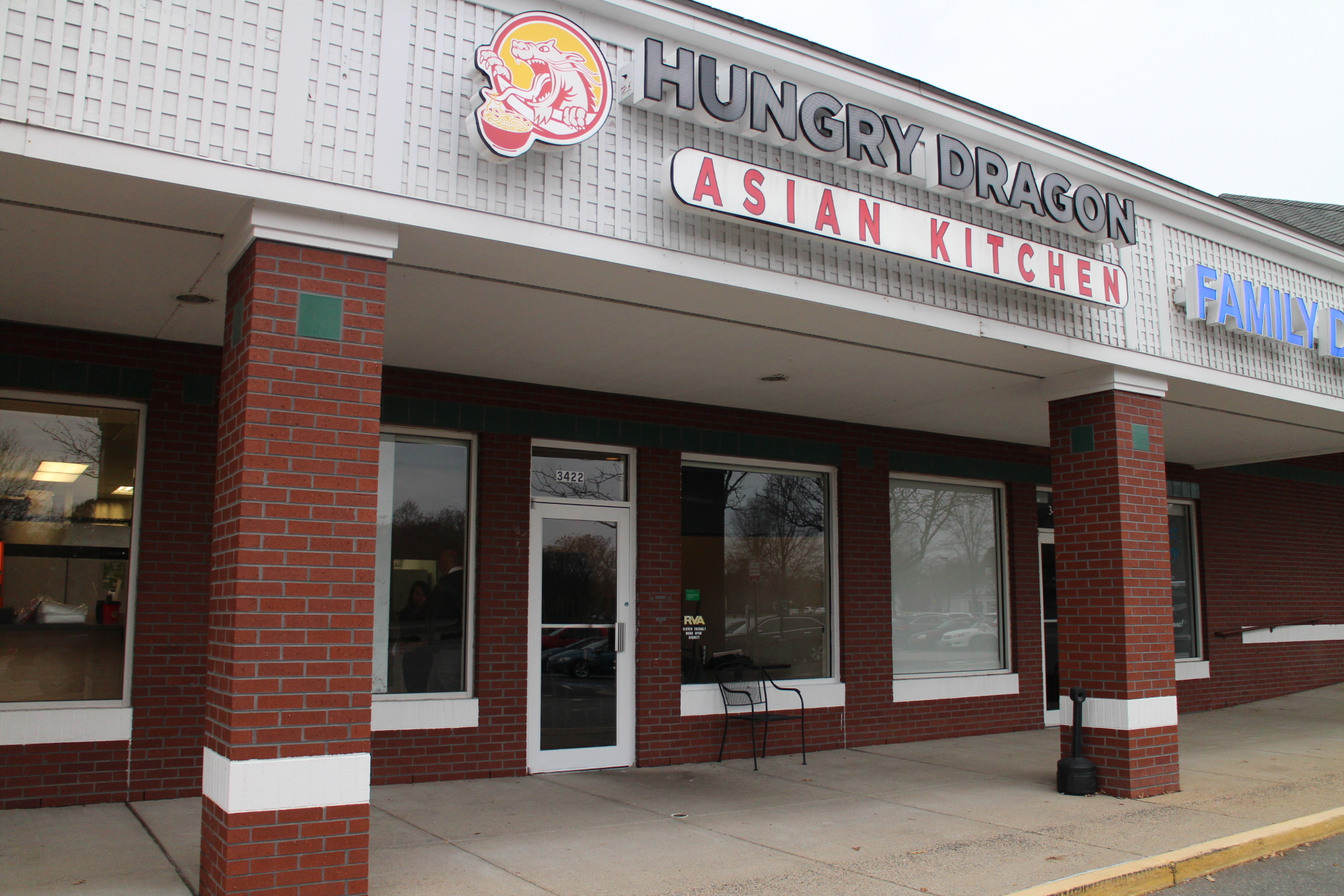 Work is underway on the restaurant space at the Shops at Wellesley that will be home to Thai Won On.
"She started cooking with her grandmother when she was 5. It's all her family's recipes that she uses," Niemiec said. "When we set up the truck, she was insistent that she'd only do it if she could cook food the way they make it in Thailand."
As the business was gaining momentum and booking festivals in early 2020, the pandemic hit. However, Niemiec said, as festival cancellations came in, so did requests from local homeowner's associations.
"The HOAs started calling us and saying, 'Look, our neighbors can't go to restaurants, they're all starving and hungry. They're all Americans and, no offense, only have the capability to cook for themselves two nights running. They're losing weight, they need food, can you come to the neighborhood?'" Niemiec joked.
"That overnight just exploded. We got to the point where after COVID had become a real outbreak, we were turning down five or six bookings per day. We had more work than we knew how to handle."
Niemiec said the frequency of repeat bookings signaled to him and Supanya that their food was good, but the limited space and serving times with the food truck limited growth.
"You start early and finish late, but you have a really short serving window. Typically the windows were from 4 p.m. to 8 p.m. in the summer and 4 p.m. to 7 p.m. in the winter," he said. "You're limited to how much food you can serve and grow your business. We started thinking with a brick and mortar we're not going to be subject to that."
They connected with Joyner Commercial's Todd Buttner to search for a storefront and leased the 1,100-square-foot space that was until recently home to Hungry Dragon Asian Kitchen. Thalhimer's Jim Ashby and Reilly Marchant represented the landlord in lease negotiations.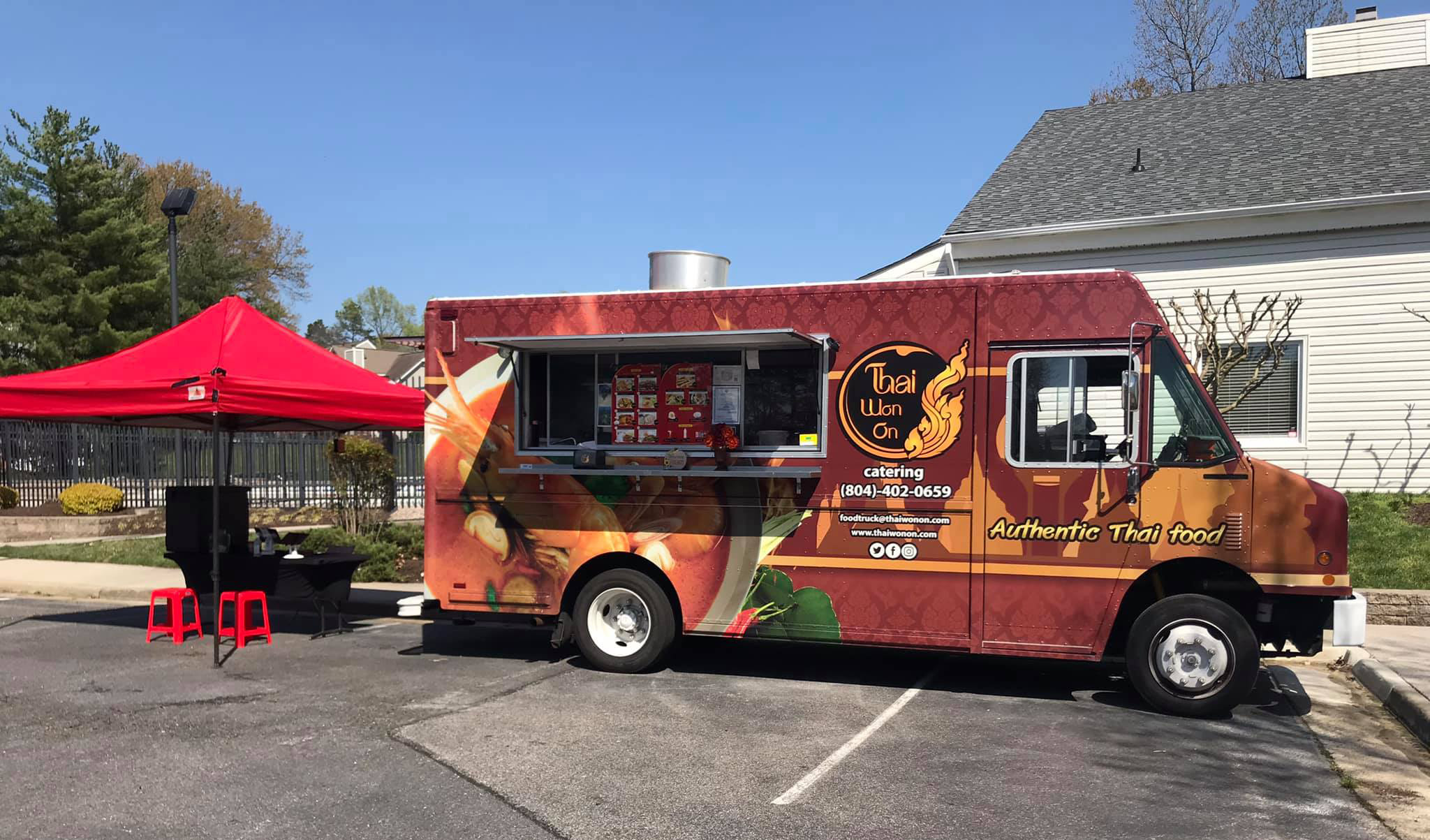 The food truck will soon be sold to a new operator. (Courtesy of Thai Won On)
Niemiec and Supanya plan to open the restaurant around Christmas.
Niemiec said they're doing cosmetic renovations on the space, including paint and new flooring.
Thai Won On will emphasize delivery and takeout but also have about eight or nine tables for seating.
The extra space will also allow the couple to roughly triple the size of the menu, Niemic said.
"Previously, we did the traditional dishes that everybody knows like pad thai, drunken noodles, fried rice. The expanded menu will now include a number of curries and Thai salads," he said. "We'll keep all the traditional dishes as well and expand on some of those."
Meanwhile, the Thai Won On food truck is retired. Niemiec said they have an unnamed buyer lined up to take it over.
When the pandemic first hit, Niemiec said they thought that leaving their jobs for the food truck would either turn out to be the best decision or the worst decision they'd ever make. Nearly two years later, he said he feels fortunate they were able to spend the last few years in the truck.
"Like any ride, it has its ups and downs," Niemiec said. "But it's ours and we have more ups than we have downs."