Source: Richmond BizSense – Published on November 4, 2020
A planned mixed-use conversion of a century-old duplex is set to blend old and new on a corner property in Church Hill.
Richmond's Commission of Architectural Review recently endorsed a plan to fill out the property at 3101-3105 E. Marshall St., where a new-to-market developer is looking to renovate the existing building with a modern-style addition to create nine apartments and two commercial spaces.
The resulting complex would restore the duplex's former storefront while adding a new one below the additional apartments, which would form a two-story addition that would fill a vacant lot between the building and North 31st Street. The property, at the corner of 31st and Marshall, is catty-corner from Chimborazo Elementary School and doors down from another mixed-use development that houses Grisette restaurant.
City property records show Datapro purchased the 0.12-acre property in March 2019 for $425,000. The latest city assessment valued the property at $402,000.
Guiding the 31st and Marshall project is Sean Jefferson, who is designing and building it for Datapro Investments LLC, an entity registered in Virginia Beach and led by company president Qian Gu. Jefferson said Gu is based in Northern Virginia and is making his first investment in Richmond with the project.

Jefferson, whose company ESS Performance Services is in the process of changing names to On-Site Construction Management, said he was referred to Gu by Joyner Commercial's Eddie Jackson, who represents Gu locally and is marketing the development's retail spaces. He said Jackson has received some interest from commercial tenants but has not signed any agreements yet.
Jefferson said the design follows his approach of making the most with what's permissible with a property. He worked with Jeff Keith of Goochland-based Advanced Engineering on the designs.
"For the most part, the idea just came out of my theory of maximizing the footprint of everything I touch," Jefferson said. "That was really the maximum use that would be allowable in that area and that zone."
Plans call for rehabbing the 5,200-square-foot building and connecting it with a three-story addition that would house the bulk of the apartments.
The market-rate apartments would range from 700 to 1,100 square feet and be above the commercial spaces, which will include a 1,500-square-foot space that's envisioned for a restaurant. Jefferson said a 1,200-square-foot basement space also could house a bakery or catering business.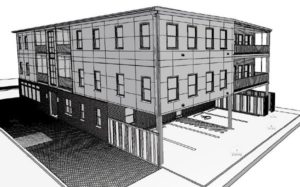 A view of the rear of the project as it would appear along 31st Street.
Jefferson put the project cost at $1.3 million. Following several revisions, it passed muster with CAR in September, with support from the Church Hill Association, Jefferson said. The project still requires a special-use permit, which Jefferson expects to receive soon. He said the SUP process has been delayed due to the pandemic.
Should an SUP be awarded by the end of the year, Jefferson said construction on the project could start in January or February. He said the project would take about six months to complete.
The project adds to other rehabs that Jefferson is overseeing in and around Church Hill and Shockoe Bottom. He said his 12-person firm, which previously has done business as Emerge Sustainable Solutions, is involved in a conversion of a former horse stables building at 1809 E. Franklin St. Other projects include a rehab of 1509 E. Main St., a vacant building around the corner from Club Rouge.
Meanwhile, other developments are underway on opposite sides of Church Hill. A mixed-use project by developers Matt Jarreau and Daniil Kleyman is beginning to take shape along Jefferson Street in Union Hill. And Guy Blundon's Shiplock Views apartment building has started to rise near the foot of Libby Hill.